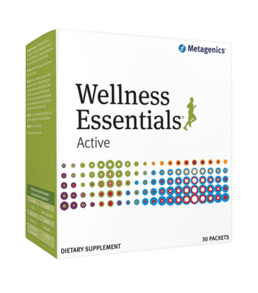 Wellness Essentials Active 30 Packets Overview
30 Packets: Personalized Nutrition with Targeted Joint Support*
Servings Per Container: 30
Wellness Essentials Active
is formulated to target healthy joint flexibility, mobility, and comfort, as well as maintain vitality and overall health.
Benefits:Multifaceted health support:
PhytoMulti is the "smart multi" with essential nutrients and a proprietary blend of concentrated extracts and phytonutrients to help protect cells and maintain DNA stability—activating health potential like no other supplement
Joint relief:
Kaprex provides a safer option for effective joint relief with a proprietary combination of selected plant components
Joint health support:
ChondroCare is a comprehensive formula designed to provide broad connective tissue support with glucosamine, chondroitin, methylsulfonylmethane (MSM), and other nutrients
Healthy cartilage support:
Glucosamine Sulfate 750 helps support healthy joints band other connective tissues by providing additional glucosamine, a naturally occurring compound in all connective tissues
Heart health, mood, and overall health support:
OmegaGenics EPA - DHA 500 is a quality-guaranteed omega-3 fatty acid formula providing third-party tested omega-3 fatty acids to ensure greater purity
QUESTIONS & ANSWERS
Have a Question?
Be the first to ask a question about this.
Ask a Question