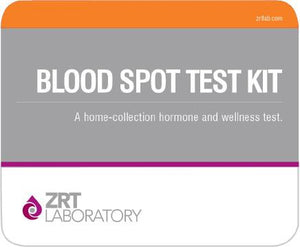 Prostate Specific Antigen (PSA) - Blood Spot Test Kit - Single Test in Blood Spot
Introducing our convenient and easy-to-use At-Home PSA Blood Test kit! With this kit, you can now check your prostate-specific antigen (PSA) levels from the comfort of your own home. The test is designed to help detect early signs of prostate cancer and monitor the progression of the disease. Our kit is reliable, and the results are provided by a CLIA-certifed lab. 
The At-Home PSA Blood Test is simple to use and requires only a small sample of blood. The blood collection process is quick and easy, and the results are available in just a few days. You will receive a comprehensive report that includes your PSA levels and an interpretation of the results. If your PSA levels are higher than normal, it may indicate a need for further evaluation by a healthcare professional.
One of the greatest benefits of our At-Home PSA Blood Test is its accessibility. No more scheduling appointments and waiting in line at the lab. Our kit makes it easy to monitor your prostate health regularly and track any changes over time. You can order the kit online and have it delivered directly to your door, saving you time and effort.
Our At-Home PSA Blood Test is an innovative and convenient solution for monitoring your prostate health. With its accuracy and ease of use, you can be confident in the results and take control of your health. Order yours today and take the first step towards a healthier and happier you!
How Does It Work?
Step 1

Order the test kit online and a complete materials package will be delivered to your door.

1

Step 2

Follow the instructions for the collection of saliva, blood, or urine and return samples via prepaid shipping label.

2

Step 3

Get results quickly and discreetly through a secure online portal or have a physical copy sent directly to you.

3
Why Test With Us?
Highest Testing Standards

We use the most up-to-date collection methods to secure blood, urine, and saliva samples for shipment and testing. Our at-home test kits and methodologies meet the highest standards for both quality and validity.

Certified Testing Labs

CLIA (Clinical Laboratory Improvement Amendments) certified laboratories are used to receive and evaluate test samples. This ensures strict adherence to both state and federal guidelines with regular inspections from applicable government agencies.

Key Facts About The Lab

Operating for over 20 years with over 8 million tests completed. Developed three distinct hormone testing methods. Partner with the CDC and NIH on research.
Do you also have A1C test kits

Hello, HbA1c test kit can be found here: https://store.hrt.org/products/hemoglobin-a1c-hba1c-blood-spot-test-kit


Psa test. How to give blood? Finger prick ?

Yes for the PSA test it is a finger prick to fill the blood spot card that is provided with the test kit. If you have any other questions please let us know.