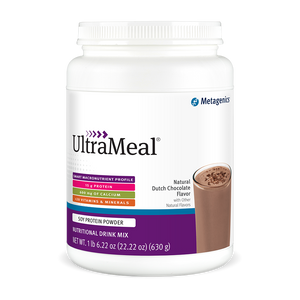 UltraMeal Dutch Chocolate Overview
UltraMeal Dutch Chocolate Overview
Product Code : UMC
Natural Dutch Chocolate Flavor Nutritional Support for Healthy Body Composition
Servings Per Container: 14 (by weight)
UltraMeal Dutch Chocolate
is formulated to nutritionally support a healthy body composition .
Benefits:
15 g of non-genetically engineered, identity preserved soy protein
Essential vitamins and minerals, including high potency B vitamins
An excellent non-dairy source of calcium (600 mg per serving), a key bonesupportive nutrient
Calcium, along with regular exercise and a healthy diet, can play a significant role in reducing the rate of bone loss
Calcium L-5-methyltetrahydrofolate—a nature-identical folate
Advanced nutrition in the form of a convenient and great-tasting shake
QUESTIONS & ANSWERS
Have a Question?
Be the first to ask a question about this.
Ask a Question