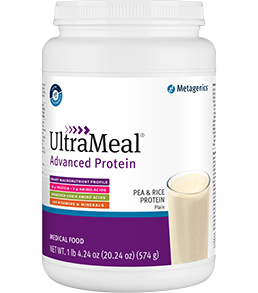 UltraMeal Advanced Protein Dutch Chocolate (14 servings) Overview
Plain: Nutritional Support for Age-Related Muscle Loss
Servings Per Container: 14
UltraMeal Advanced Protein
provides support for the nutritional management of patients with sarcopenia. This advanced formula provides essential amino acids, including added leucine, to support the healthy aging of skeletal muscle and to help address sarcopenia, the age-associated loss of skeletal muscle mass.
Benefits:
17 g of intact protein from a proprietary blend of pea and rice proteins + 3 g of added EAA for 20 g of protein10 g (half the total protein) of essential amino acids, including 5 g of BCAAs, for better support of muscle growth and maintenanceCocoa polyphenols to help support processes that contribute to healthy blood flow and vascular functionB vitamins—including calcium L-5- methyltetrahydrofolate—a nature-identical folate—and methylcobalamin (vitamin B12—to support cardiovascular health)5 g of fiber, including prebiotic fiber25 essential vitamins and minerals to support protein synthesis and healthy functioning throughout the body
QUESTIONS & ANSWERS
Have a Question?
Be the first to ask a question about this.
Ask a Question