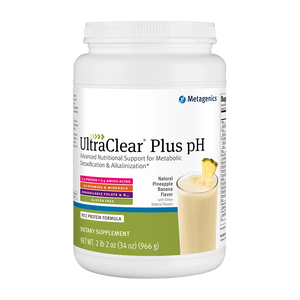 UltraClear PLUS pH Pineapple/banana (21 servings) Overview
Natural Pineapple Banana Flavor
Servings Per Container: 21 (by weight)
Nutritional Support for Metabolic Detoxification & Alkalinization
UltraClear PLUS pH
is formulated to provide enhanced, specialized nutritional support for balanced hepatic detoxification capacity, with a focus on alkalinization support that can influence Phase II detoxification and Phase III elimination. It features a rice protein base, which may be beneficial during times of increased food allergen exposure, and is enhanced with specific nutrients and high in antioxidant vitamins C and E, and beta-carotene to provide well-rounded nutritional support for liver detoxification.
Benefits:
Features enhanced support for Phase II hepatic detoxification with green tea catechins, magnesium sulfate, and 7 added amino acidsFeatures 13 g of OptiProtein, which includes 10 g of rice protein, and 3 g of added amino acidsFeatures enhanced nutrient support with methylated vitamin B12 and calcium L-5-methyltetrahydrofolate, a bioavailable folateProvides enhanced support to protect against oxidative stress during the natural liver detoxification processFeatures sesame oil and 995 mg of potassium citrate to promote alkalinization and support Phase III detoxification (elimination)May be used in 10- or 28-day metabolic detoxification programs, as well as on a long-term basis
QUESTIONS & ANSWERS
Have a Question?
Be the first to ask a question about this.
Ask a Question