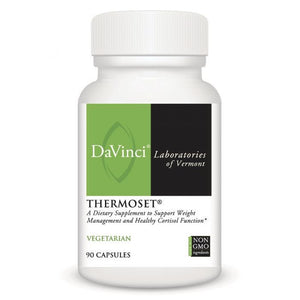 ThermoSet® is a formula that's been designed to address those factors that may contribute to weight gain, such as energy level, hormone balance, slow fat burning and stress.* It contains a full complement of natural plant extracts plus Hoodia, L-Theanine, EGCG from Green Tea and other thermogenic factors to help manage
hunger, control cravings, maintain blood sugar levels within normal range and support proper fat metabolism.*

Suggested Use: As a dietary supplement, take 1 capsule, 3 times daily 30 minutes
before each meal.
90 Vegetarian Capsules
0200105.090

Each capsule contains:
Chromium (as Cr. Polynicotinate). . . . . . . . . . . . . . . . . . . . 50 mcg
A proprietary blend of:
Green Tea (Camellia sinesis L.) Leaf Extract, Theobroma cacao whole fruit (Metabromine® brand), Hoodia gordonii (aerial stem),
Eleutherococcus senticosus (Root) . . . . . . . . . . . . . . . . 375 mg
Yielding: EGCG . . . . . . . . . . . . . . . . . . . . . . . . . . . . . . . . . 105 mg
Theobromine . . . . . . . . . . . . . . . . . . . . . . . . . . . . . 6 mg
Caffeine. . . . . . . . . . . . . . . . . . . . . . . . . . . . . . . . 1.5 mg
Guarana Seed Extract . . . . . . . . . . . . . . . . . . . . . . . . . . . . . 100 mg
Yielding: Caffeine . . . . . . . . . . . . . . . . . . . . . . . . . . . . . . . . . . 4 mg
L-Theanine (Suntheanine® brand). . . . . . . . . . . . . . . . . . . 25 mg
Banaba (Lagerstroemia speciosa L.) Leaf Extract. . . . . . . 10 mg
Yielding: Corosolic Acid . . . . . . . . . . . . . . . . . . . . . . . . . . . 0.2 mg
Black Pepper (Piper nigrum) Seed Extract . . . . . . . . . . . . . . 5 mg

Other ingredients: vegetable cellulose (capsule),microcrystalline cellulose, vegetarian leucine.

Warning: Do not take this product if pregnant, nursing, have fibrocystic breast disease, high blood pressure, or if you're taking MAOI or SSRI drugs or antihypertensive medications.

Caution: This product naturally contains caffeine. Do not take if you are caffeine-sensitive.
QUESTIONS & ANSWERS
Have a Question?
Be the first to ask a question about this.
Ask a Question