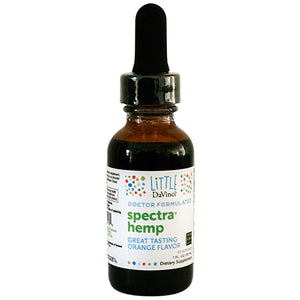 What if your child's body had a switch that could control health? When the switch was turned on and working right, everything would run smoothly. In fact, there is such a switch, it's called the endocannabinoid system. It's so important to health that it's already working even before your child is born.*
Spectra Hemp is formulated with phytocannabinoids that nourish your child's endocannabinoid system. The phytocannabinoids team up to be even more powerful than one phytocannabinoid alone. Scientists call this the entourage effect. Your little ones will enjoy spectra hemp's delicious natural orange flavor, and its easy delivery system means more fun for your child and less stress for you.*
*These statements have not been evaluated by the Food and Drug Administration. This product is not intended to diagnose, treat, cure, or prevent any disease.
SUPPLEMENT FACTS
Serving size: 1 ml
Servings per container: 30


Ingredients Amount %DV
Calories 10 †
Total Fat 1g †
Virgin Hemp (Cannabis sativa) Seed Oil
Typically Yielding:
Linoleic Acid
Alpha Linolenic Acid
Oleic Acid 860 mg

378 mg
120 mg
73.1 mg †

European Hemp (Cannabis sativa) Stalk & Seed Oil 33.3 mg †

* % Daily Values are based on a 2,000 calorie diet.
† Daily Value not established.

Other Ingredients: orange oil, natural orange flavor, mixed tocopherols.
QUESTIONS & ANSWERS
Have a Question?
Be the first to ask a question about this.
Ask a Question