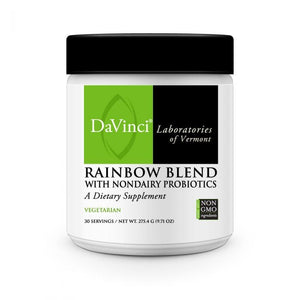 Rainbow Blend With Nondairy Probiotics offers 50 organic ingredients to support total wellness.* It features the antioxidant vitamin C, herbs, probiotics, and polyphenols to support free radical stabilization, detoxification, digestive health, and overall cellular energy.* This fruit and vegetable drink mix powder makes supporting comprehensive health simple, convenient, and delicious.*
Suggested Use: As a dietary supplement, mix one scoop (9.18 g) daily in 8-10 oz of cold water or juice, or as directed by your healthcare practitioner.

Supplement Facts
Serving Size 9.18 grams (Approximately 1 Scoop)
Servings Per Container: 30

Amount per Serving

Calories 35
Total Carbohydrates 8 g 3% †
Dietary Fiber 2 g 7% †
Total Sugars 2 g *
Iron 0.3 mg 2%
Sodium 10 mg <1%
Organic Gum Arabic Tree (Acacia senegal) Gum 1 g *
Organic Green Tea (Camellia sinensis) Leaf Powder 500 mg *
Organic Spirulina 100 mg *
Proprietary Organic Berry Blend 3 g *
Organic Raspberry Fruit Powder, Organic Strawberry Fruit Powder,
Organic Acerola Berry Extract, Organic Blueberr Fruit Powder,
Organic Sour Cherry Fruit Powder, Organic Grape (Vitis labrusca)
Fruit Powder, Organic Blackberr Fruit Powder, Organic Bilberry
Fruit Powder, Organic Cranberry Fruit Powder, Organic Goji (Lycium)
Berry Powder, Organic Acai (Cabbage Palm) Fruit Powder, Organic
Hawthorn (Crataegus laevigata) Berry Powder, Organic Schizandra
(Schizandra chinesis) Berry Powder
Proprietary Organic Fruit Blend 2.06 g *
Organic Banana Fruit Powder, Organic Pineapple Fruit Powder,
Organic Apple Fruit Powder, Organic Plum Fruit Powder, Organic
Peach Fruit Powder, Organic Papaya Fruit Powder, Organic Mango
Fruit Powder, Organic Rose (Rosa canina) Hips Fruit Powder, Organic
Lemon Fruit Powder, Organic Pomegranate Fruit Powder
Proprietary Organic Vegetable Blend 430 mg *
Organic Carrot Root Powder, Organic Kale (Collard) Leaf Powder,
Organic Broccoli Leaf Powder, Organic Chlorella, Organic Spinach
Leaf Powder, Organic Beet Root Powder
Proprietary Organic Fiber Blend 240 mg *
Organic Inulin, Organic Milled Flaxseed, Organic Alfalfa Sprout,
Organic Brown Rice Bran
Proprietary Nondairy Probiotic Blend 100 mg *
Organic Inulin, Lactobacillus acidophilus, Lactobacillus rhamnosus,
Lactobacillus casei, Bifidobacterium bifidum, Bifidobacterium
longum, Streptococcus thermophilus
Proprietary Organic Herbal Blend 150 mg *
Organic Parsley Leaf, Organic Turmeric (Curcuma longa) Root,
Organic Milk Thistle (Silybum marianum) Seed, Organic Ginger Root,
Organic Aloe vera Leaf
Organic Stevia Leaf 100 mg *

†Percent Daily Values are based on a 2,000 calorie diet.
*Daily value not established.

Other Ingredients: organic natural flavors, organic pure vanilla sugar powder and organic
cinnamon (Cinnamomum cassia) bark powder.
QUESTIONS & ANSWERS
Have a Question?
Be the first to ask a question about this.
Ask a Question