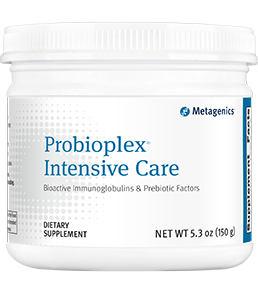 Probioplex Intensive Care 180 Tablets Overview
180 Tablets
Servings Per Container: 180
Bioactive Immunoglobulins & Prebiotic Factors
Probioplex Intensive Care
is a prebiotic support formula featuring concentrated whey protein combined with fructooligosaccharides (FOS) and the prebiotic factors lactoferrin and lactoperoxidase.
Benefits:
Supports the activity of "friendly" intestinal bacteria such as lactobacilli and bifidobacterium Delivers prebiotic in the form of FOS and lactoferrin and lactoperoxidase, proteins that support intestinal microbial balance Supports healthy intestinal and immune system function
QUESTIONS & ANSWERS
Have a Question?
Be the first to ask a question about this.
Ask a Question