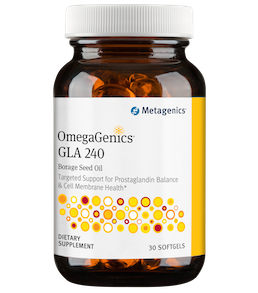 OmegaGenics GLA 240 30 Softgels Overview
30 Softgels
Servings Per Container: 30
Targeted Support for Prostaglandin Balance & Cell Membrane Health
OmegaGenics
eatures borage seed oil, an essential fatty acid that is converted in the body to DGLA (dihomo- gammalinolenic acid ), the direct precursor of beneficial series 1 prostaglandins.
Benefits:
GLA supports healthy eicosanoid balanceGLA helps support the health of delicate cell membranesGLA helps support a healthy balance of series 1 prostaglandins
QUESTIONS & ANSWERS
Have a Question?
Be the first to ask a question about this.
Ask a Question