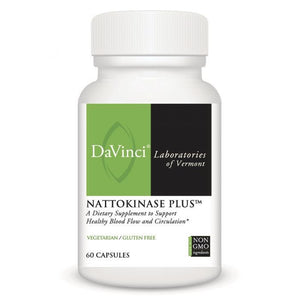 Nattokinase Plus™ is a nutritional supplement designed to support healthy blood flow and circulation.* Nattokinase is a fibrinolytic enzyme produced from Natto, a Japanese fermented soy product.
The Nattokinase in this formula has high enzyme activity providing 20,000 fibrin units (FU) per gram and is free of Vitamin K. The Plus in this formula is the inclusion of another fibrinolytic enzyme, Serratiopeptidase with Rutin, a flavonoid that acts as a free radical
scavenger to support capillary strength and vascular health.*

Suggested Use: As a dietary supplement, take 2 capsules daily between meals.
60 Vegetarian Capsules
0200898.060

Two capsules contains:
Natto NSP-2™ brand Nattokinase (20,000 FU/g) . . . . . . 150 mg
Serratopeptidase (120,000 U/g) . . . . . . . . . . . . . . . . . . . . . 150 mg
Rutin . . . . . . . . . . . . . . . . . . . . . . . . . . . . . . . . . . . . . . . . . . . . 200 mg

Other ingredients: microcrystalline cellulose, vegetable cellulose (capsule), vegetarian leucine.

Contains: Soy.

Warning: If pregnant, nursing, or have blood-clotting disorders or are taking anti-coagulant medications such as Coumadin (Warfarin), do not take this product without consulting your healthcare professional.
QUESTIONS & ANSWERS
Have a Question?
Be the first to ask a question about this.
Ask a Question