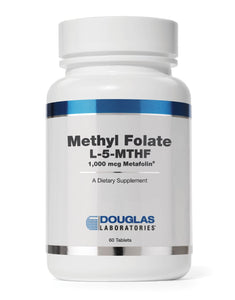 METHYL FOLATE Tablet
Methyl Folate provides 1,000 mcg of Metafolin, a patented form of (6S) 5-methyltetrahydrofolate (5-MTHF). 5-MTHF is the naturally occurring, predominant form of folate commonly found in cells and is essential for overall health, as it participates as a cofactor in a reaction that involves the remethylation of homocysteine to methionine. Metafolin is directly usable by the body and has been shown to be the only form of folate to cross the blood-brain barrier.
QUESTIONS & ANSWERS
Have a Question?
Be the first to ask a question about this.
Ask a Question