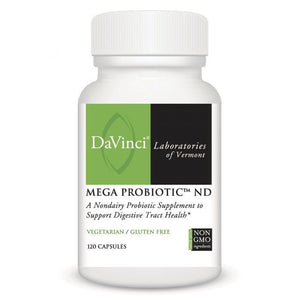 Mega Probiotic-ND™ is a non-dairy probiotic formulation produced from an all-natural source of beneficial microorganisms and FOS to support digestive tract health.*
Mega Probiotic-ND™ contains 8 species of microorganisms to provide a full spectrum of probiotic strains for proper digestive tract health and function.*
Fructooligosaccharides (FOS) are considered a soluble fiber and a prebiotic that support the growth of beneficial microorganisms in the intestinal tract while inhibiting the growth of harmful bacteria.*
The probiotics in Mega Probiotic-ND™ also support healthy colon cell growth, immune function and optimize intestinal motility.* Mega Probiotic-ND™ is guaranteed to contain 5 billion microorganisms in each vegetarian capsule.

Suggested Use: As a dietary supplement, follow the recommendations below:
Initial: Take amount below twice daily, after breakfast and after dinner.

Children age 4 and over: 1 capsule
Adult: 2 capsules
Senior: 3 capsules
Maintenance: Take the above amount once daily after breakfast.
120 Vegetarian Capsules
0200346.120

Three capsules contain:
Stabilized Nondairy Probiotic Complex . . . . . . . . . . . . 185.65 mg
(15 billion CFU)
Fructooligosaccharides (FOS), Lactobacillus acidophilus, Bifidobacterium lactis, Lactobacillus casei, Streptococcus thermophilus, Bifidobacterium breve, Lactobacillus rhamnosus, Bifidobacterium longum, Bifidobacterium bifidum

Other ingredients: microcrystalline cellulose, vegetable cellulose (capsule), ascorbyl palmitate.
QUESTIONS & ANSWERS
Have a Question?
Be the first to ask a question about this.
Ask a Question