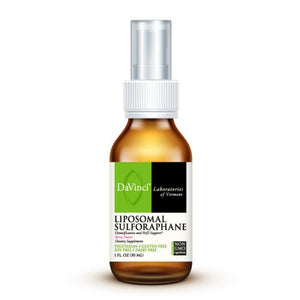 Sulforaphane, an isothiocyanate (a group of chemicals that substitute a sulfur molecule for an oxygen molecule and are formed via an enzyme driven conversion by another compound, Glucosinolates), is a sulfur-rich compound found in many cruciferous vegetables like broccoli, cabbage, cauliflower, and kale. Broccophane®, the branded, standardized version of sulforaphane is what is used in this liposomal delivery system. The liposomal liquid spray delivery system allows for flexible, convenient sulforaphane, with the ability to manipulate daily amounts easily in order to address individual requirements. Liposomal technology helps to maintain the health benefits of this compound by protecting it from the degradative environment of the stomach. This is especially beneficial for patients who have had gastric bypass or have general gastro-intestinal dysfunction.* Liposomal encapsulation of ingredients represents a novel delivery system that appears to offer important advantages over existing methods of delivery, including protection and speed of absorption.
Suggested Use: As a dietary supplement, hold nozzle 1" from mouth, spray twice and swallow. Use once daily or as directed by your healthcare practitioner. Shake well before each use.

Supplement Facts
Serving Size 0.4 ml (2 sprays)
Servings per Container 75

Amount per Serving % Daily Value

BroccoPhane® Broccoli Sprout Powder 37.5 mg *
Yielding sulforaphane 150 mcg

*Daily Value not established.

Other ingredients: glycerin, water, oleic acid polyglyceride, natural flavors, sunflower lecithin, sunflower oil, bilberry extract, xanthan gum, potassium citrate, mixed tocopherols, rosmarinic acid.
QUESTIONS & ANSWERS
Have a Question?
Be the first to ask a question about this.
Ask a Question