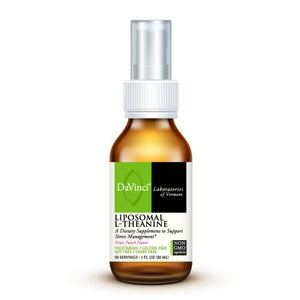 Liposomal L-Theanine is an all-natural solution for anyone who needs help relaxing and maintaining a peaceful state even during the most stressful of times. The primary inclusion is LTheanine, a component of green tea that helps settle the brain. This amino acid balances brain chemicals, specifically by supporting inhibitory neurotransmitters, important for calm behavior. L-Theanine also boosts levels of other calming amino acids such as dopamine, GABA, and tryptophan. The result? Less irritability and more peace around your house.* What's more, L-Theanine promotes a healthy response to stress, and because it stops racing thoughts that interfere with a good night's sleep, L-Theanine is also great for helping you fall asleep more easily and staying asleep throughout the night.* The potential benefits of L-theanine were demonstrated in a study published in Nutrient Journal in 2016 where the primary outcome measure, subjective stress response to a multitasking cognitive stressor, was significantly reduced one hour after administration of L-theanine treatment when compared to placebo. The salivary cortisol response to the stressor was reduced three hours post-dose following active treatment. Research has also shown L-theanine to support Alpha brain activity (Asia Pac J Clin Nutr. 2008), which is said to play a vital role in enhanced brain functionality as well as mood support and behavior.
Suggested Use: As a dietary supplement, hold nozzle 1" from mouth, spray three times and swallow. Use once daily or as directed by your healthcare practitioner. Shake well before each use.

Supplement Facts
Serving Size 0.6 ml (3 sprays)
Servings per Container 50

Amount per Serving % Daily Value

Total Carbohydrates <1 g 0%†
Green Tea (Camellia sinensis) Leaf Extract 102 mg *
Yielding L-Theanine 100 mg
Stevia Leaf Extract 0.6 mg *

† Percent Daily Values are based on a 2,000 Calorie diet.
*Daily Value not established.

Other ingredients: glycerin, water, oleic acid polyglyceride, sunflower lecithin, natural fruit punch flavor, xanthan gum, potassium citrate, rosmarinic acid, mixed tocopherols.
QUESTIONS & ANSWERS
Have a Question?
Be the first to ask a question about this.
Ask a Question