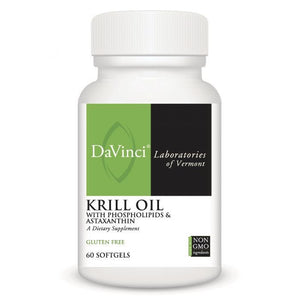 Suggested Use: As a dietary supplement, take 2 softgels daily with food.
60 Softgels
020010E.060

Two softgels contain:
Calories . . . . . . . . . . . . . . . . . . . . . . . . . . . . . . . . . . . . . . . . . . . . . . 10
Calories from Fat . . . . . . . . . . . . . . . . . . . . . . . . . . . . . . . . . . . . . . 10
Total Fat . . . . . . . . . . . . . . . . . . . . . . . . . . . . . . . . . . . . . . . . . . . . . 1 g
Virgin Krill Oil™ (Euphausia superba). . . . . . . . . . . . . . . 1,000 mg
yielding
Phospholipids . . . . . . . . . . . . . . . . . . . . . . . . . . . . . . . . . . . 400 mg
Omega 3 Fatty Acids . . . . . . . . . . . . . . . . . . . . . . . . . . . . . 240 mg
EPA (Eicosapentaenoic Acid) . . . . . . . . . . . . . . . . . . . . . 130 mg
DHA (Docosahexaenoic Acid) . . . . . . . . . . . . . . . . . . . . . 75 mg
Astaxanthin esterified . . . . . . . . . . . . . . . . . . . . . . . . . . . . 700 mcg

Other Ingredients: gelatin, glycerin, purified water, sorbitol.

Contains: Crustacean Shellfish (Krill).

Virgin Krill Oil™ is a trademark of Jedwards International, Inc.

Warning: If pregnant or nursing, allergic to fish or seafood, have a blood coagulation condition, anticipate surgery or take anticoagulants, such as warfarin, consult your healthcare practitioner before taking this product.
QUESTIONS & ANSWERS
Have a Question?
Be the first to ask a question about this.
Ask a Question