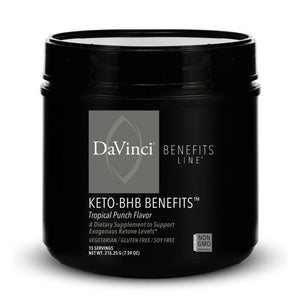 Keto-BHB Benefits™ represents the gold standard in Nitric Oxide (NO) nutritional support.* It contains targeted, precision ingredients aimed at blood vessel support.* Citrulline plays a role in Nitric Oxide production, and Lysine lends direct support to the integrity of the blood vessel wall.*
Suggested Use: As a dietary supplement, take 1 scoop (14.35g) daily, or as directed by your healthcare practitioner.

Supplement Facts
Serving Size: 14.35 g (Approximately 1 Scoop)
Servings Per Container: 15

Amount per Serving

Calories 30
Calcium 400 mg 31%
Sodium 915 mg 40%
Potassium (as K Citrate) 133 mg 3%
Sodium Beta-Hydroxybutyrate (as goBHB®) 5 g *
Calcium Beta-Hydroxybutyrate (as goBHB®) 2.5 g *
Amino L40 Blend (L-Leucine, L-Lysine, L-Valine, L-Isoleucine,
L-Threonine, L-Phenylalanine, L-Methionine, L-Histidine,
L-Tryptophan) 3 g *
L-Citrulline 750 mg *
CurcuWIN® Turmeric (Curcuma longa) Root Extract 250 mg *
yielding curcuminoids 50 mg *
Stevia Leaf Extract 110 mg *

†Percent Daily Values are based on a 2,000-calorie diet.
*Daily Value not established.

Other Ingredients: natural flavors, citric acid, calcium silicate, silica.
QUESTIONS & ANSWERS
Have a Question?
Be the first to ask a question about this.
Ask a Question