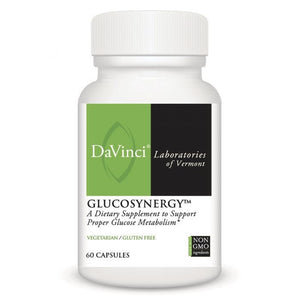 A dietary supplement to support proper glucose metabolism.* GlucoSynergy™ with Cinnulin PF®, a patented water extract of cinnamon, supports healthy glucose management and insulin utilization by cells.* GlucoSynergy™ now contains 7 well-known nutritional factors to support proper glucose metabolism including a full complement of natural plant extracts (Bitter Melon Extract, Vanadyl Sulfate, Gymnema sylvestre extract, Lagerstroemia speciosa L. (Banaba Leaf) Extract, and Cinnulin PF®, plus Alpha Lipoic Acid for free radical support and the ChromeMate® brand Chromium Polynicotinate to support normal sugar metabolism, maintain blood sugar levels within normal range and aid glucose utilization by cells.*

Suggested Use: As a dietary supplement, take 1 capsule with a meal, 1 to 3 times daily.
60 Vegetarian Capsules
0200262.060

Each capsule contains:
Chromium (as Cr Polynicotinate)†. . . . . . . . . . . . . . . . . . . 200 mcg
Gymnema sylvestre Leaf Extract. . . . . . . . . . . . . . . . . . . . . 200 mg
Yielding: Gymnemic Acid. . . . . . . . . . . . . . . . . . . . . . . . . . 50 mg
Cinnulin PF® (Cinnamon Extract). . . . . . . . . . . . . . . . . . . . . 125 mg
Alpha-Lipoic Acid . . . . . . . . . . . . . . . . . . . . . . . . . . . . . . . . . 100 mg
Bitter Melon (Momordica charantia) Extract . . . . . . . . . . 80 mg
Yielding: Charantin. . . . . . . . . . . . . . . . . . . . . . . . . . . . . . . 0.4 mg
Lagerstroemia speciosa L. (Banaba) Leaf Extract . . . 50 mg
Yielding: Corosolic Acid. . . . . . . . . . . . . . . . . . . . . . . . . . 0.5 mg
Vanadyl Sulfate . . . . . . . . . . . . . . . . . . . . . . . . . . . . . . . . . . 5 mg

†ChromeMate® brand niacin-bound chromium.

Other ingredients: vegetable cellulose (capsule), microcrystalline cellulose, vegetarian leucine.

Warning: This product should only be used with careful monitoring of blood sugar levels and in consultation with your healthcare practitioner. If pregnant or nursing consult your healthcare practitioner before taking this product.
QUESTIONS & ANSWERS
Have a Question?
Be the first to ask a question about this.
Ask a Question