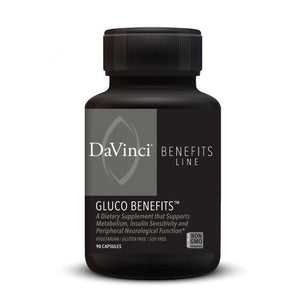 Metabolic health is an intricate puzzle dependent on the balance of our energy system. Think of energy production and use as an equation. When the equation is balanced, we
see overall metabolic health result. Insulin sensitivity, liver health, nourishment, hormonal health and glycation levels are invaluable components of the equation.

020052F.090
Caution: Discontinue use 2 weeks prior to surgery.
Suggested Use: As a dietary supplement, take 3 capsules daily, or as directed by your healthcare practitioner.

Supplement Facts
Serving Size 3 Capsules
Servings Per Container 30

Amount per Serving % Daily Value

Vitamin B6 (as Pyridoxal 5-Phosphate) 55 mg 3,235%
Chromium (as Cr Polynicotinate) 1,000 mcg 2,857%
Glucevia® (Fraxinus angustofolia) 1,000 mg *
GlucoDox™ 200 mg *
R-alpha lipoic acid 100 mg *
BenfoPure® Benfotiamine 75 mg *

*Daily Value not established.

Other ingredients: microcrystalline cellulose, hypromellose (capsule), vegetarian leucine.
QUESTIONS & ANSWERS
Have a Question?
Be the first to ask a question about this.
Ask a Question