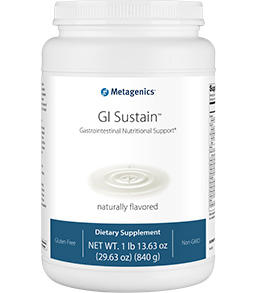 GI Sustain 29.6 oz and 14 Serving Pack Overview
29.6 oz (1 lb 13.6 oz) (840 g)
Servings Per Container: 14
Nutritional Support for the Management of Compromised Gut Function
GI Sustain
is designed to provide gastrointestinal nutritional support. The formula is uniquely designed to aid in promoting the growth of beneficial bacteria by including prebiotic nutrient, combined with readily digestible macronutrients.
Benefits:
Nourishes the cells of the intestinal mucosaFeatures rice protein concentrate supplemented with L-lysine and L-threonine for an improved amino acid profileFormulated with rice syrup solids as a natural energy sourceFeatures medium chain triglycerides , a readily absorbed and metabolized lipid sourceFeatures prebiotic IMOs to selectively nourish beneficial bacteria, including lactobacilli and bifidobacteriaFormulated with zinc and L-glutamine to nutritionally support gastrointestinal mucosa integrityFeatures methylated vitamin B12 and calcium L-5 methyltetrahydrofolate, a bioavailable folate
QUESTIONS & ANSWERS
Have a Question?
Be the first to ask a question about this.
Ask a Question