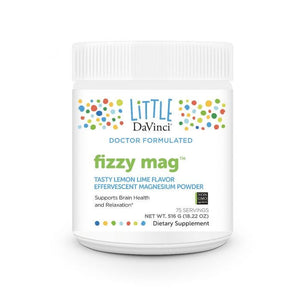 When it comes to the most important nutrients our little ones need these days, magnesium is certainly toward the top of that list, if not number one. Magnesium is a mineral needed by every cell; it activates at least 350 different enzymes in the body, more than any other mineral, so it is crucial for many of the metabolic functions in the body.* With that in mind, the team at Little DaVinci has worked diligently to create a magnesium product in a delivery format that is easily administered and tastes great!

Nourishing our children with a powerful metabolic activator like magnesium is essential for overall health and supporting certain systems, specifically the nervous (brain) system. Disruption in their magnesium intake can negatively impact how they wake up, experience their day and settle down at night. Ensuring a bright day and restful night requires adequate amounts of magnesium, and fizzy mag™ provides exactly what your little one needs in a great tasting lemon lime effervescent powder.
Suggested Use: As a dietary supplement, children age 4 and older take 1 scoop (6.88 g) in water daily, preferably in the evening, before bed, or as directed by your healthcare practitioner.

Supplement Facts
Serving Size 1 Scoop (6.88 g)
Servings Per Container 75

Amount per Serving

Calories 20
Total Carbohydrates 5 g 2%†
Calcium (as Tricalcium Phosphate) 19 mg 2%
Potassium (as K Bicarbonate) 390 mg 8%
Riboflavin (Vitamin B2) 8 mg 615%
Magnesium (as Mg Citrate) 420 mg 100%
Stevia Leaf Extract 35 mg *

†Percent Daily Values are based on a 2,000 calorie diet.
*Daily Value not established.

Other ingredients: citric acid, evaporated cane juice, silica, natural lemon flavor.
QUESTIONS & ANSWERS
Have a Question?
Be the first to ask a question about this.
Ask a Question