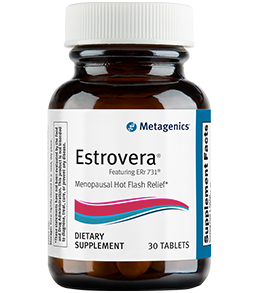 Estrovera 30 Tablets Overview
30 Tablets: Menopausal Hot Flash Relief*
Servings Per Container: 30
Estrovera
featuring ERr 731, has been used safely and effectively for over 20 years and is supported by clinical studies. Estrovera provides relief for multiple menopausal symptoms, including hot flashes, sleep disturbances, mood swings, irritability, anxiety, and sexual problems.
Non-hormonal menopausal symptom relief
Estrovera is a plant-based option that features ERr 731, a special extract of Siberian rhubarb, demonstrated in clinical studies to significantly reduce menopausal symptoms—offering an effective and safe option for both peri-and postmenopausal women.
Effective Relief for Menopausal Symptoms
Clinically shown to dramatically reduce the number of daily hot flashes and relieve a wide range of other symptoms.
Unprecedented Scientific Validation
Multiple short- and long-term studies with over 400 peri-and postmenopausal women—published in peer-reviewed journals—confirm efficacy and predicted safety.
Favorable Safety Profile
ERr 731 has been recommended by healthcare professionals in Europe since 1993.
QUESTIONS & ANSWERS
Have a Question?
Be the first to ask a question about this.
Ask a Question