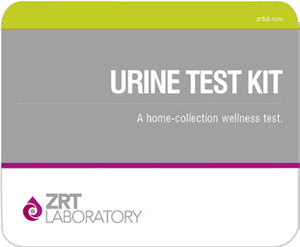 Elements Profile I, Br, Se, As, Hg, Cd, Crtn - Urine Test Kit (ZRTLab)Analyzing elements can provide insight into why you may not synthesize or convert thyroid hormones and can help determine the cause of thyroid related symptoms. The thyroid gland regulates cellular energy metabolism, as well as controls heart rate and protein synthesis for proper growth and development. This profile includes Dried Urine tests for: Iodine, Bromine, Selenium, Arsenic, Cadmium, Mercury and Creatinine.
How Does It Work?
Step 1

Order the test kit online and a complete materials package will be delivered to your door.

1

Step 2

Follow the instructions for the collection of saliva, blood, or urine and return samples via prepaid shipping label.

2

Step 3

Get results quickly and discreetly through a secure online portal or have a physical copy sent directly to you.

3
Why Test With Us?
Highest Testing Standards

We use the most up-to-date collection methods to secure blood, urine, and saliva samples for shipment and testing. Our at-home test kits and methodologies meet the highest standards for both quality and validity.

Certified Testing Labs

CLIA (Clinical Laboratory Improvement Amendments) certified laboratories are used to receive and evaluate test samples. This ensures strict adherence to both state and federal guidelines with regular inspections from applicable government agencies.

Key Facts About The Lab

Operating for over 20 years with over 8 million tests completed. Developed three distinct hormone testing methods. Partner with the CDC and NIH on research.
QUESTIONS & ANSWERS
Have a Question?
Be the first to ask a question about this.
Ask a Question