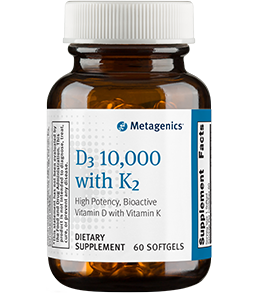 D3 10,000 with K2 60 Softgels Overview
60 Softgels
Servings Per Container: 60
Gluten Free
Non-GMO
High Potency, Bioactive Vitamin D with Vitamin K
D3 10,000 with K2
provides ultra concentrated levels of vitamin D3 designed to quickly replenish vitamin D status. This formula also provides active forms of vitamin K to complement the activity of vitamin D.
Benefits:
Designed for patients with demonstrated increased nutritional needs for vitamin DVitamin D promotes healthy bone formation and mineralization and supports immune and cardiovascular healthSupplies active forms of vitamin K2 (as MK-4 and MK-7) designed for greater bioavailabilityVitamin K is a key vitamin in the metabolism of bone proteins (i.e., osteocalcin) crucial to bone integritySolubilized in oil to promote better absorption in the digestive tract
QUESTIONS & ANSWERS
Have a Question?
Be the first to ask a question about this.
Ask a Question