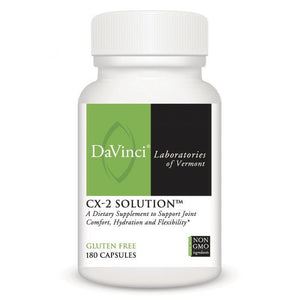 CX-2 Solution™ is an advanced formula designed to support joint comfort, hydration and flexibility, muscle function, connective tissue health and the maintenance of healthy synovial fluid viscosity within the joints.* It's a synergistic combination of well-recognized nutrients that may be beneficial for those who experience joint and muscle discomfort and/or limited joint mobility and elasticity.*

Suggested Use: As a dietary supplement, take 3 capsules, 1 to 2 times daily.
180 Capsules
0200376.180

Three capsules contain:
Glucosamine HCl (from shrimp and crab). . . . . . . . . . . . . 750 mg
Methylsulfonylmethane (MSM). . . . . . . . . . . . . . . . . . . . . . 500 mg
Phellodendron amurense (Bark) Extract . . . . . . . . . . . . . 250 mg
Curcumin Phytosome™ (Curcuma longa Root Extract
/ Phosphatidylcholine Complex) . . . . . . . . . . . . . . . . . . . . 250 mg
Sea Cucumber . . . . . . . . . . . . . . . . . . . . . . . . . . . . . . . . . . . . 150 mg
Boswellia serrata Extract . . . . . . . . . . . . . . . . . . . . . . . . . . 150 mg
Yielding Boswellic Acid . . . . . . . . . . . . . . . . . . . . . . . . . . . . 90 mg
Quercetin. . . . . . . . . . . . . . . . . . . . . . . . . . . . . . . . . . . . . . . . 100 mg
N,N-Dimethylglycine HCl (DMG). . . . . . . . . . . . . . . . . . . . . 75 mg
Sodium Hyaluronate . . . . . . . . . . . . . . . . . . . . . . . . . . . . . . . . 20 mg

Other ingredients: vegetable cellulose, microcrystalline cellulose, vegetarian leucine, pharmaceutical glaze.

Contains: Shellfish (shrimp & crab) and Sea Cucumber.

Warning: Do not take this product if pregnant, nursing, or on prescription antibiotics, anticoagulants/anti-platelet drugs or have gallbladder disease.
QUESTIONS & ANSWERS
Have a Question?
Be the first to ask a question about this.
Ask a Question