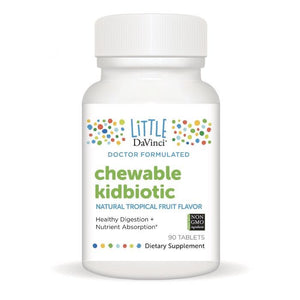 Chewable kidbiotic is a great choice to maintain a healthy balance of good bacteria in a child's gut. Plus, it provides important digestive enzymes that help the body break down milk sugar, fats, proteins, and carbohydrates. These enzymes help kids' bodies absorb certain vitamins and nutrients critical for your child's health and well-being.*

Chewable kidbiotic comes in a delicious tropical punch flavor, and since it's chewable, it's great for younger kids who hate to swallow pills. It's also made of non-GMO ingredients. So, you can trust that it's healthy for your little ones.*
Suggested Use: As a dietary supplement, children 4
or older chew 1 tablet, 3 times daily, with meals, or
as directed by your healthcare practitioner.

Supplement Facts
Serving Size 1 Chewable Tablet
Servings Per Container 90

Amount per Serving

Calories 5
Total Carbohydrates 1 g <1% †
Proprietary Blend of Non-Dairy Probiotic Culture 318.75 mg *
containing Bacillus coagulans, Lactobacillus acidophilus,
Lactobacillus bulgaricus, Lactobacillus rhamnosus,
Bifidobacterium breve, Bifidobacterium longum (2.25 Billion CFU).
Proprietary Blend of Digestive Enzymes 156.2 mg *
containing Amylase (100,000 SKBU/g), Lactase (15,000 ALU/g),
Bromelain (2,400 GDU/g), Lipase (15,000 FIP/g), Cellulase
(6,000 CU/g), Protease (5,000 HUT/g).
Stevia Leaf Extract 12 mg *

*Daily Value not established.
†Percent Daily Values are based on a 2,000-calorie diet.

Other ingredients: mannitol, vegetable stearate, natural tropical fruit & strawberry flavors, citric acid, silicon dioxide, orange fruit powder.
QUESTIONS & ANSWERS
Have a Question?
Be the first to ask a question about this.
Ask a Question