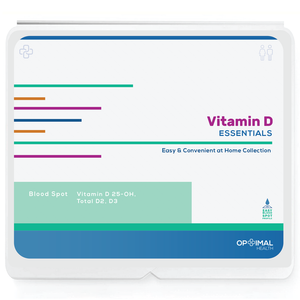 Vitamin D 25-OH, Total D2, D3-Blood Spot Lab Test Kit

Vitamin D is technically considered a "prohormone" created mostly by the body through skin exposure to sunlight. D vitamins are involved in a number of processes including modulation of the immune system, insulin sensitivity, regulation of hormones and neurotransmitters, and calcium absorption for the skeletal system. Vitamin D may also play a protective role in conditions such as diabetes, heart disease, and some cancers.

What Is Measured?

25-hydroxyvitamin D

Blood spot testing measures 25-hydroxyvitamin D, which is the best way to monitor vitamin D. D2 is found in fortified foods and D3 is produced in the body.

Related Symptoms

Heart disease
Immune disorders
Fragile bone health

Multiple Sclerosis

Fatigue

Depression

Slow wound healing
Cancers including:

Vitamin D Levels
Optimal levels of Vitamin D are between 40 and 80 ng/ml.
How Does It Work?
Step 1

Order the test kit online and a complete materials package will be delivered to your door.

1

Step 2

Follow the instructions for the collection of saliva, blood, or urine and return samples via prepaid shipping label.

2

Step 3

Get results quickly and discreetly through a secure online portal or have a physical copy sent directly to you.

3
Why Test With Us?
Highest Testing Standards

We use the most up-to-date collection methods to secure blood, urine, and saliva samples for shipment and testing. Our at-home test kits and methodologies meet the highest standards for both quality and validity.

Certified Testing Labs

CLIA (Clinical Laboratory Improvement Amendments) certified laboratories are used to receive and evaluate test samples. This ensures strict adherence to both state and federal guidelines with regular inspections from applicable government agencies.

Key Facts About The Lab

Operating for over 20 years with over 8 million tests completed. Developed three distinct hormone testing methods. Partner with the CDC and NIH on research.
QUESTIONS & ANSWERS
Have a Question?
Be the first to ask a question about this.
Ask a Question