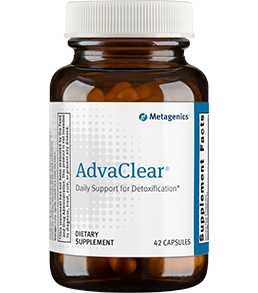 AdvaClear 126 Capsules Overview
126 Capsules
Servings Per Container: 63
Daily Support for Detoxification
AdvaClear
provides daily support for balanced activity of the Phase I and Phase II detoxification pathways.
Benefits:
Promotes overall well-being by supporting balanced hepatic detoxification Features enhanced bifunctional detoxification support with key phytonutrients , methylated vitamin B12, and calcium L-5-methyltetrahydrofolate, a bioavailable folateProvides antioxidant protection against reactive oxygen intermediates produced during the detoxification process
QUESTIONS & ANSWERS
Have a Question?
Be the first to ask a question about this.
Ask a Question