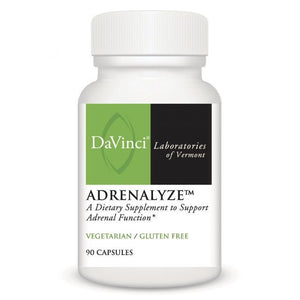 A dietary supplement to support adrenal function.* AdrenaLyze™ is an advanced formula that includes those nutrients that are essential to the proper functioning of the adrenal glands.* Research suggests that prolonged exposure to stress can result in immune and adrenal imbalance.* This formula provides a variety of botanical factors to support the body's ability to adapt to varying stressors from environmental or physiological causes and to help reduce stress reactions.* Adrenalyze™ is a synergistic combination of vitamins and adaptogens, which work together to support healthy adrenal gland function (Pantethine, B Vitamins, Phosphatidylserine), aid in stress management (B Vitamins, Ginseng, Ashwagandha, Vitamin C) and maintain cortisol levels within normal ranges (Licorice, Phosphatidylserine).*

Suggested Use: As a dietary supplement, take 1 capsule, 3 times daily.
If digestive upset occurs, take with food. 90 Vegetarian Capsules
0200422.090

Each capsule contains:
Vitamin C (as Ascorbic acid and Ca Ascorbate). . . . . . . 100 mg
Thiamin . . . . . . . . . . . . . . . . . . . . . . . . . . . . . . . . . . . . . . . . . . . 25 mg
Riboflavin. . . . . . . . . . . . . . . . . . . . . . . . . . . . . . . . . . . . . . . . . . 25 mg
Niacin (as Niacinamide). . . . . . . . . . . . . . . . . . . . . . . . . . . . . 25 mg
Vitamin B6 (as Pyridoxal-5-Phosphate). . . . . . . . . . . . . . . . 25 mg
Folate (as [6S]-5-methyltetrahydrofolic acid from
200 mcg of Quatrefolic® [6S]-5-methyltetrahydrofolic
acid, glucosamine salt). . . . . . . . . . . . . . . . . . . . . . . . . . . 100 mcg
Vitamin B12 (as Methylcobalamin). . . . . . . . . . . . . . . . . . . 20 mcg
Biotin . . . . . . . . . . . . . . . . . . . . . . . . . . . . . . . . . . . . . . . . . . . . 75 mcg
Pantethine. . . . . . . . . . . . . . . . . . . . . . . . . . . . . . . . . . . . . . . . . 50 mg
Eleutherococcus senticosus
Root Extract. . . . . . . . . . . . . . . . . . . . . . . . . . . . . . . . . . . . . 150 mg
Ashwagandha Extract. . . . . . . . . . . . . . . . . . . . . . . . . . . . . . 150 mg
Yielding: Withanolides. . . . . . . . . . . . . . . . . . . . . . . . . . . . 3.75 mg
Phosphatidylserine Complex (from soy). . . . . . . . . . . . . . . 50 mg
Panax ginseng Extract. . . . . . . . . . . . . . . . . . . . . . . . . . . . . . 50 mg
Deglycyrrhizinated Licorice (Glycyrrhiza glabra)
Root Powder . . . . . . . . . . . . . . . . . . . . . . . . . . . . . . . . . . . . . 10 mg

Other ingredients: hypromellose (capsule), vegetarian leucine,
microcrystalline cellulose.
Contains: Soy.

Warning: If pregnant, diabetic, have hypertension, or are on blood
thinning medications, consult your healthcare practitioner before taking
this product.

Caution: This product is not intended for long term use. Discontinue 2
weeks prior to surgery.
QUESTIONS & ANSWERS
Have a Question?
Be the first to ask a question about this.
Ask a Question