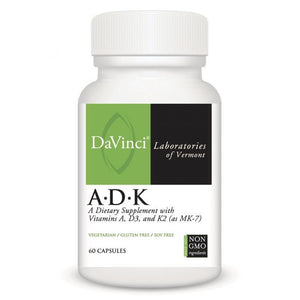 A dietary supplement with vitamins A, D, and K2 (as MK-7).
A • D • K is a dietary supplement that supports:
• Bone structure, density and integrity* • Proper bone remodeling* • Calcium utilization* • Cardiovascular function*

Suggested Use: As a dietary supplement, take one capsule daily. 60 Capsules 020079C.060

Each capsule contains:
Vitamin A (as Retinyl Palmitate) . . . . . . . . . . . . . . . . . . . . . 5,000 IU
Vitamin D3 (as Cholecalciferol) . . . . . . . . . . . . . . . . . . . . . 5,000 IU
Vitamin K2 (as MK-7) . . . . . . . . . . . . . . . . . . . . . . . . . . . . . . 500 mcg

Other Ingredients: microcrystalline cellulose, vegetable cellulose (cap- sule), vegetarian leucine.

Warning: Do not take this product if pregnant or nursing. If you have a blood-clotting disorder or are taking anticoagulant/anti-platelet drugs such as Coumadin (Warfarin), do not take this product without consulting your healthcare practitioner.

Caution: Individuals taking more than 2,000 IU of Vitamin D per day should
have their vitamin D levels monitored. This product is not intended for long
term use and should be used under the supervision of your doctor.
QUESTIONS & ANSWERS
Have a Question?
Be the first to ask a question about this.
Ask a Question